Joined

Dec 6, 2004
Location
http://www.elitedangerous.com/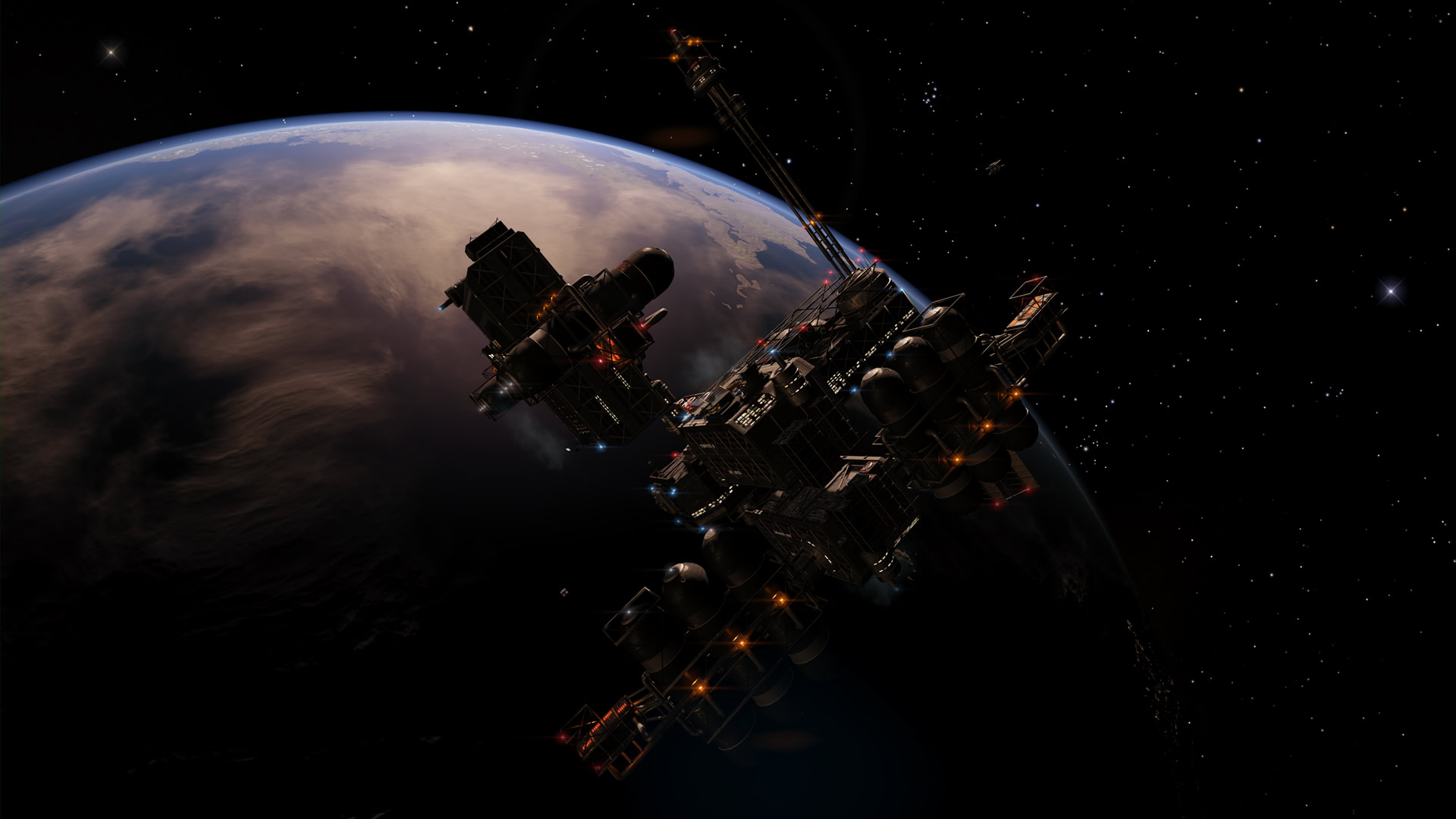 Play your way
The ongoing conflicts between the galactic superpowers provide you with a plentiful supply of different missions across the galaxy to choose from.
Trading is a great way of finding your feet and starting your future fortune.
With 400 billion star systems, there is a lot to explore in Elite: Dangerous. Deep space offers awe-inspiring sights to behold and valuable information to acquire, should you return safely to civilization.
Remember it's a cut throat galaxy out there and combat is a basic skill that you need to survive. It can also provide rich pickings, be it bounty hunting or piracy.
But before you set out to make the galaxy yours, it is advisable to get to grips with your ship and hone your flying and docking skills. The best way to do this is to begin with the single player missions and to watch the
Pilot Training Videos
.
Achieving the exalted rank of Elite is possible whichever way you play, be it Trading, Exploration or Combat.
Computer Requirements
Elite: Dangerous is available now on Windows. You will be able to download the released game on Macintosh computers once it is available, at no extra charge.
Minimum recommended hardware specification:
Direct X 11
Quad Core CPU ( 4 x 2Ghz is a reasonable minimum)
4 GB System RAM (more is always better)
DX 10 hardware GPU with 1GB video ram

Nvidia GTX 260
ATI 4870HD

Internet connection
Supported Operating Systems:
There are no regional restrictions, although the game may not be localised into your language. The game client works in conjunction with server-based code to deliver its functionality / experience, and therefore requires a continuous internet connection.
Game Immersion
Want to feel even closer to the amazing experience of Elite: Dangerous?
Support for a wide range of peripherals including joysticks, head tracking and virtual reality headsets puts you in the game like never before.
Exploration
With 400 Billion star systems, there's a lot to explore in Elite: Dangerous, and it's possible to build fame and fortune from that exploration.
Scanning a system provides a mass of information such as planet types, their chemical composition, mineral resources, surface liquids, interesting anomalies, and even indications of the presence of indigenous life.
This information can be returned back to a civilized planet with a data claim registration, logging the data earns money for the explorer - the more valuable the planets discovered, the more you're likely to earn.
There is a high-stakes race to be the first supplier of such information, and underhanded methods of denying your rivals are commonplace.
The galaxy is wider and deeper than you can even begin to imagine, and hides many secrets and mysteries, as well as awe-inspiring sights and unusual cosmic phenomena to behold.
Venture out into the deep unknown far from civilization, with little more than a fuel scoop and a scanner - you may even find more than you bargained for.
Trading
Trading is a very useful, popular way to make money as a starship Commander.
There are thousands of star systems with commodities markets - and some with multiple markets. Each of these markets exists in a Starport.
The rules are simple and universal: buy goods cheaply, where they are made and there is plentiful supply, and then sell them where prices are high, in a location with a high demand for your cargo.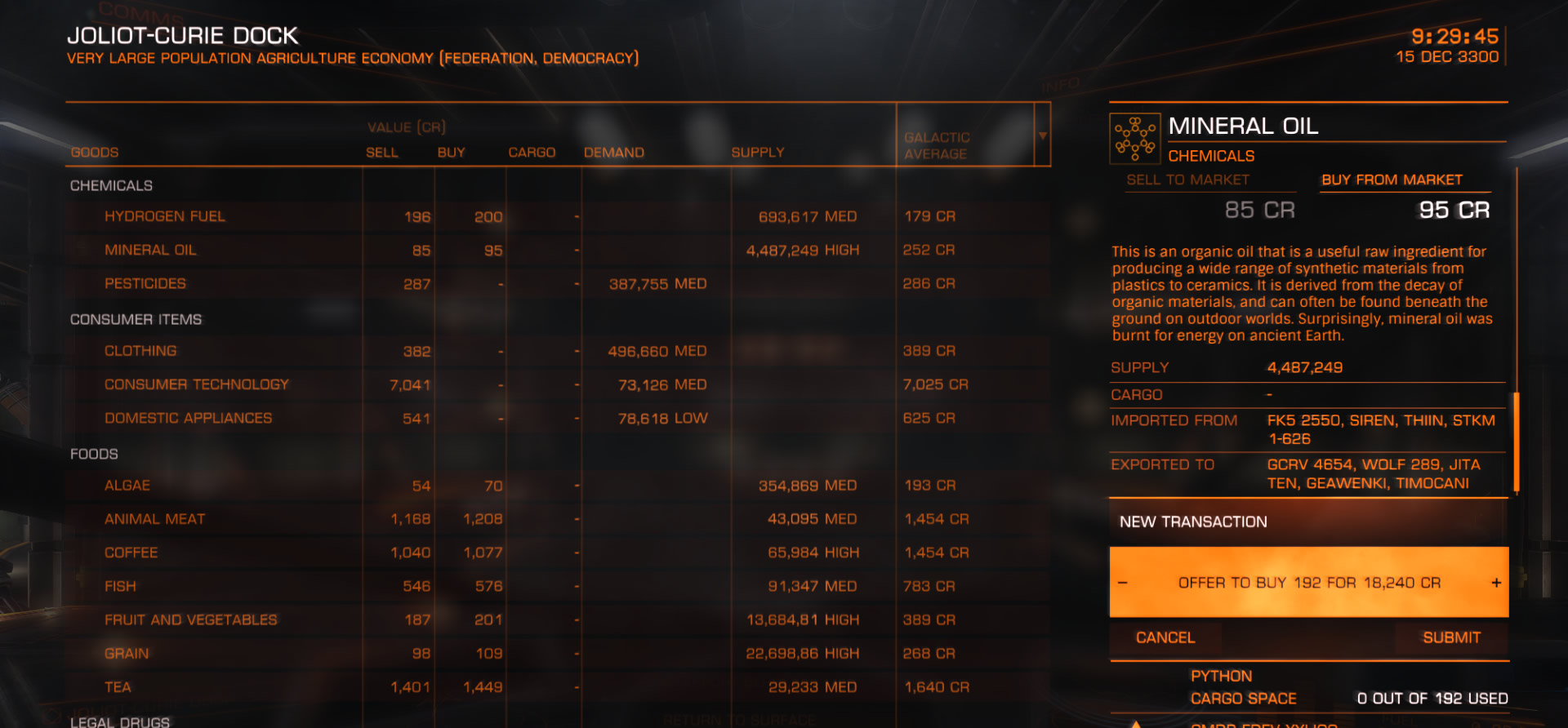 Supply and demand drives prices galaxy-wide - your every trade contributes to the dynamic market activity. The smaller the local market, or the rarer the commodity, the more easily you and friends can work together to influence prices for your own benefit.
Commodities range widely in type depending on the system you are docked at, from domestic goods to raw minerals to agricultural products and weapons.
The majority of things you can trade are above-board, but there are narcotics and slaves too, which are illegal in different jurisdictions, so you'll need to put your stealth skills to the fore to successfully trade in those.
You can make a healthy profit as a smuggler or an honest trader. But beware the pirate looking to make their own profit - from you.
Combat
It is a cut-throat galaxy out there, and combat is a basic skill that you need to survive.
The Pilots Federation place bounties on the heads of anyone who is seen killing its members - Commanders who kill another member immediately get a bounty on their head. You can claim these bounties by hunting and killing the culprits.
For the less scrupulous - Why buy a hold full of cargo, when you can pirate it from someone else? Why go to the bother of exploring a system to sell the data, when you can simply take it from them by force?
The ongoing conflicts between the galactic superpowers also provide you with a plentiful supply of different missions to choose if you want to earn cash from them. There are assassination missions you can carry out for individuals, or you can be a hired gun, helping one (or all) of the superpowers in the wars which flare up across the galaxy.
Every time you and every other commander undertake a mission, the outcome has an impact on the galaxy as a whole for everyone, so your experience is ever-unfolding.
Elite: Dangerous
$59.99
Available Now for PC Digital Download.
Elite: Dangerous Boxed - Upgrade Edition
Pre-Order $20.00
https://store.elitedangerous.com/usd/game-extras.html